CCC-TV und Kodi (XBMC) … und 31C3 Vorträge
Ich habe gestern mal meinen Raspberry Pi aktualisiert und die neue Version 5 von OpenELEC installiert. Beim Stöbern durch das integrierte Repository für Erweiterungen bin ich über das neue CCC-TV-Plugin vom Kölner CCC gestolpert.
Gerade jetzt nach dem Congress ist das Plugin super. Direkter Zugriff auf media.ccc.de und eine praktische Integration in die Android-App Yatse (Amazon / Play Store) machen das Nachschauen der Vorträge vom 31C3 sehr angenehm.
Leider ist mein Media-Center-Monitor inzwischen ziemlich im Eimer, aber ich bin einfach noch nicht dazu gekommen den auszutauschen.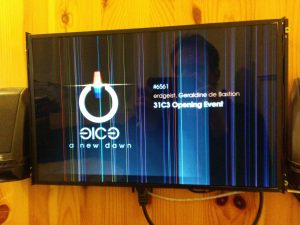 Ich weiß nicht ob ich hier noch eine Liste an empfohlenen Vorträgen abladen soll, aber ich werfe einfach mal rein, was ich bisher geschaut habe und was mich überrascht hat:
Deine Rechte sind in diesen Freihandelsabkommen nicht verfügbar
Fnord News Show
GIFs: Tod eines Mediums. Und sein Leben nach dem Tod.
Hacking Ethics in Education
Heartache and Heartbleed: The insider's perspective on the aftermath of Heartbleed
IFG – Mit freundlichen Grüßen
Ich sehe, also bin ich … Du
Infocalypse now: P0wning stuff is not enough
Jahresrückblick des CCC
Krypto für die Zukunft
NSA Points of Presence in AT
SS7: Locate. Track. Manipulate.
SS7map : mapping vulnerability of the international mobile roaming infrastructure
Security Nightmares
Switches Get Stitches
Tell no-one
The Magical Secrecy Tour
The Perl Jam: Exploiting a 20 Year-old Vulnerability
Traue keinem Scan, den du nicht selbst gefälscht hast
UNHash - Methods for better password cracking
Vor Windows 8 wird gewarnt
Why is GPG "damn near unusable"?
"Wir beteiligen uns aktiv an den Diskussionen"
Bei Zusammenstellen der Liste bin ich schon wieder über einen Haufen andere Talks gestolpert, die ich noch sehen will. Es wird wohl eine Zeit dauern, bis ich das Archiv durch habe.